100% organic aromatic delicacy
Organic honeys by Terre d'Eccezione, aim at enhancing the polyfloral honey again by launching a new line of "crus" produced using the flowers of an extraordinary region: Le Marche. Top-quality and healthy food, characterized by unusual colours, tastes and textures: Terre d'Eccezione honeys prove the floral richness of Le Marche through a traditional and unique know-how which focuses on the care and respect for bees and the environment.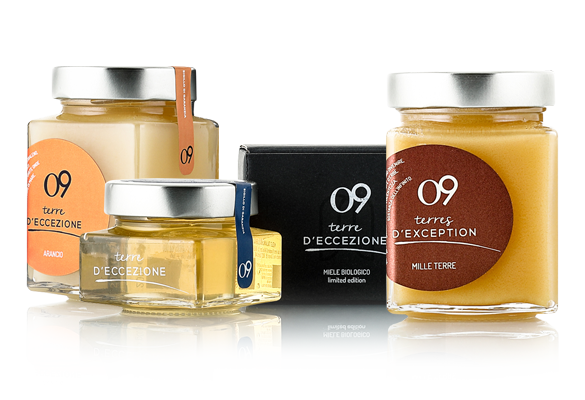 MONOFLORAL HONEYS,
POLYFLORAL HONEY AND MILLE TERRE
Terre d'Eccezione offers top-quality organic honeys characterized by an unmatched aromatic delicacy, thanks to the choice of the most beautiful fields of wild flowers present in this region, stretching from the sea to the mountains and all through smooth hills. The 4 Terre d'Eccezione polyfloral honeys tell the story of flower treasures: Mille Mari comes from the sea, while Mille Colli originates from the hills.
Mille Monti comes from the mountains, an excellence harvested on the slopes of the Appennines. Mille Terre is the final product of these 3 essences. Terre d'Eccezione production gets enriched, according to the seasons, by 5 varieties of monofloral honeys to offer a unique and 100% organic sensory experience.
A box containing our 4 "crus" of organic honeys, characterized by multiple taste sensations, which will make you discover the peculiar richness of the flowerings of this unique region. Terre d'Eccezione taste box will lead you through a sensory journey thanks to its honeys characterized by unique tastes which allow to exalt various tasting moments. Our box wraps our honey jars in a way so as to make them an even more refined and elegant gift. Your Terre d'Eccezione "crus" of honeys will be exalted by these cases and their pure lines, thus making you share the sensations of a unique taste delicacy. The excellent quality of the 100% Italian organic honeys by Terre d'Eccezione is the very result achieved from Le Marche flower treasure, through an organic beekeeping respectful of bees and the environment, as well as thanks to an expert tradition. Thanks to their colours, tastes and textures, Terre d'Eccezione honey will make you live unforgettable moments.
"Discovery" box – 9 200-gr honey jars
"Gourmet" box – 4 400-gr honey jars