Terre d'Eccezione extra virgin olive oil is the very nectar cold-pressed from our groves. Olives are hand-picked, placed in small ventilated crates and directly brought to the mill where they are immediately washed and grinded. History, tradition, authenticity and respect for our land and environment are the key principles of our production cycle: from a grove management complying with organic farming protocols to timely harvesting for maximum olive ripeness; from grinding, malaxation and painstakingly careful cold-pressing to the accurate storage and bottling of oil.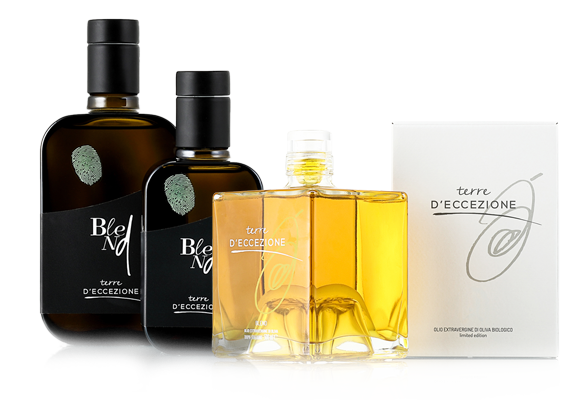 MONOVARIETAL OILS AND THE "BLEND"
Products by Terre d'Eccezione will make you discover both monovarietal extra virgin olive oils, such as Leccino, Mignola and Raggia, and the "Blend", which is a fine mix of Leccino, Frantoio, Pendolino, Moraiolo, Carboncella, Orbetana and Peranzana. Everyone comes with its own organoleptic qualities.
They are the perfect match for high-end cuisine: powerful, precious and naturally rich in polyphenols and aromatic substances. Terre d'Eccezione extra virgin olive oil is the true landmark of fragrances and flavours from Le Marche.
A box containing 4 organic extra virgin olive oils. This is the right selection to discover the taste of our oils and enrich your dishes with monovarietal types (Leccino, Mignola and Raggia) as well as with our "Blend". Each oil ranks amongst the best olive oils with an acid content lower than 0.20%.
This box contains 4 25 cl-bottles by Terre d'Eccezione, a fine gift for your New Year and birthday parties, or to celebrate a special event