Andreina Restaurant, Loreto (AN)
From his granny, the star Chef soaked in his craft and, most of all, his way of living: besides knowing the products of his land and mastering traditional dishes, Andreina taught him discipline, perseverance and sacrifice, that is the most needful traits for those dealing with high-end professional cooking. Chef Errico takes the renowned culinary history of his family in the twenty-first century with a vision of his own, just saving the best and blending it with innovation.
"A dish should strike a chord with each and every generation in order for it to spark a memory. Otherwise, it won't be about LIFE! That's why I'm looking for a timeless cuisine, shrugging off ephemeral fashions to get closer to our hearts."
(Chef Errico Recanati)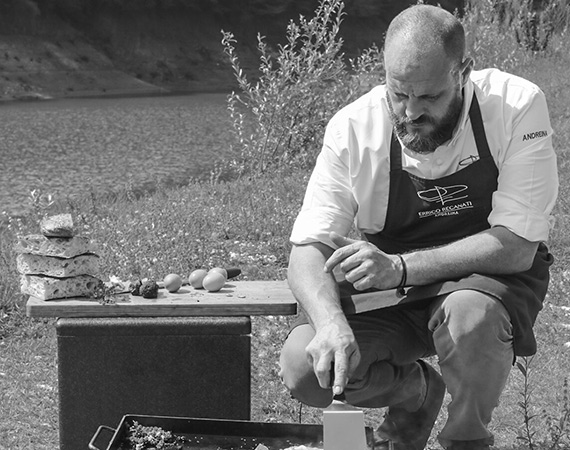 PepeNero Restaurant, Jesi (AN)
You have your ordinary chefs and then you have the "She-Chef" Maria Vittoria Griffoni. At barely 31 years, she got out of the Hotel and Catering School to become a globetrotting cook, honing her skills along the whole restaurant industry from Italy to Australia just to found the Ratatouille, her own business as a private chef. She rolled out two venues in a couple of years (PepeNero, both in Jesi and Senigallia) and she earned for herself a strenuous iFoodies contest.
"To me, this job is a perfect fit: it's imaginative, sharp and without too many rules… just like me!"
Trattoria Da Antonietta, Jesi (AN)
The culinary art of Roberta Castaldi brings about typical dishes delving into the seemingly forgotten past of Le Marche. Each kind of pasta, painstakingly handmade and conveyed through flavorful regional recipes, tells the eternal celebration of food and taste. The menu is a rich and bewitching one, cruising from tagliatelle with rabbit ragu and second meat courses to the fragrant Italian fritto and homemade desserts.
"To me, cooking is first of all paying respect to craftsmanship. There's no good cooking without a good product. That's why I want to surround myself with the best ones in their own fields. I need my gross product to have a soul to tell its story at the highest".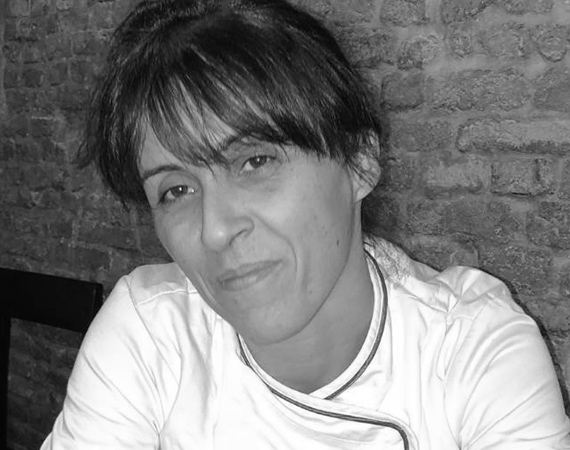 In 2001, Tokyo-based Kanako Okuda wrote her first book on extra virgin olive oil. Besides being a food critic, writer and enthusiast, Kanako is a professional olive oil taster, a distinguished sommelier and a member of AISO (the Italian Association of Olive Oil Tasters). We met some years ago at the ASSAM class of physiological suitability to virgin olive oil tasting. We exchanged numbers and she decided to import our EVO oils in Japan by introducing them to 1-Michelin-Star Chef Yoshitsugu Suzuki, who embraced them for his high-end and delicate cuisine. The sheer elegance of our Mignola – a nice match to the harmony of Japanese cuisine – has been particularly appreciated, and it also won a gold medal at JOOP (the Japan Olive Oil Prize).
1 Michelin Star Chef since 2008
Kappou Restaurant, Tokyo (Japan)
As you walk down the shopping street leading to the eastern exit of the Gakugei-daigaku train station, turn right at the flower shop and you'll find yourself in a quiet neighborhood. Renowned chef Yoshitsugu Suzuki is right there. Backed by his sushi-making experience, he opened his own restaurant at the age of 29. Gifted with an unfathomably sharp eye for details, he sweeps Tsukiji everyday looking for the best ingredients. There is just one keyword to his craft: unveil the full taste of seasonal food. He first introduced olive oil in his cuisine ten years ago, and he still loves using it for risotto and sauces. Last year, thanks to Kanako Okuda, he discovered Mignola (Terre d'Eccezione), one of our extra virgin olive oils. It has been a real breakthrough resulting in some special culinary creations getting two different cultures together. "We honor each and every person we meet at the restaurant and we hope to make your visit a very special moment that will stick with you for a long time". His personality and his delicate cuisine made him famous both in the media and in cooking classes.