100% organic aromatic delicacy
With our "Terre d'Eccezione" organic honeys we intend to put the polyfloral honeys  "Millefiori" in the foreground. Our grand crus honeys come from an extraordinary region's flowers: the Marche. Noble and natural foods, with unique colors, flavors and textures, the "Terre d'Eccezione" honeys express the richness of the floral heritage of the Marche, through a traditional and unique know-how that focuses on respect for bees and the environment.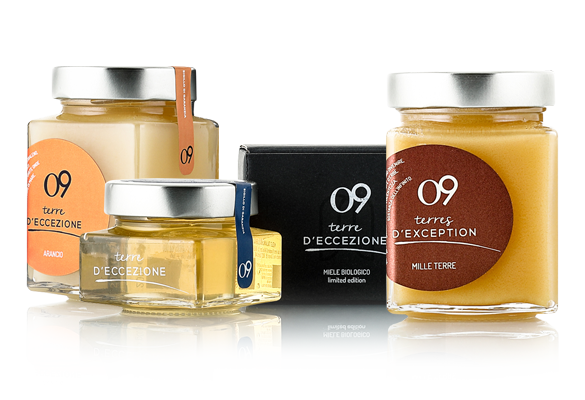 MONOFLORAL AND
POLYFLORAL HONEYS
We offer unique organic honeys with an unmatched aromatic delicacy, thanks to the choice of the most beautiful wild flowers' fields. They extend from the sea to the mountains, all through the smooth hills.
The 4 polyfloral honeys "Terre d'Eccezione" tell the treasures of flowers: from the sea comes the "Mille Mari", from the hills comes the "Mille Colli".
"Mille Monti" comes from the mountains, an excellence collected on the slopes of the Marche Apennines. Our "Mille Terre"is the subtle extract of these 3 essences.
Terre d'Eccezione production is enriched, according to the seasons, with 6 types of monofloral honey in order to offer a unique and 100% organic sensory experience.